Thank you to all our supporters for Youth Fight for Jobs' national day of action on Saturday 9th October. With your support, Youth Fight for Jobs organised marches and protests for young people's futures in 15 towns and cities across the UK.
While young and working class people have suffered over the course of the pandemic, the billionaires in Britain have increased their wealth be a fifth. Now, Boris Johnson is promising a high-wage, high-skill economy – but we know we'll only get that through collective workers' action.
Youth Fight for Jobs took to the streets to demand that instead, big business is made to pay for the crisis. We marched and protested for a £15 an hour living wage, an end to zero hours contracts, for real training and apprenticeship schemes for young people and a mass programme of socially useful and environmentally sustainable job creation. In some areas, we organised flying pickets of businesses notorious for their low wages, poor working conditions and use of zero hours contracts. We are proud to say that we were joined on the day by young workers, students and trade unionists.
Below are a few reports of the day from our supporters on the ground locally.
Bristol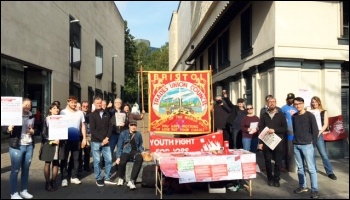 There was a constant stream of people passing by our demo, and it was motivating to see many people stop to talk to us about their frustration with the situation and their desire to find a solution. We had a great turnout from the trade union councils from Gloucester and Bristol.
One 17-year-old worker we spoke to explained the struggles she has experienced while working in retail – not knowing her hours from one week to the next, being made to work while she was ill, and a manager who refused to give her a copy of her contract.
This demo was just the beginning. Young people are becoming more and more disillusioned with capitalism. Now is our best opportunity to spread our message, and fight for socialism.
Glasgow
Glasgow hosted Scotland's first Youth Fight for Jobs protest of the relaunched campaign. Our city will also soon host COP26.
Fiona Brittle, a member of civil service union PCS, said: "It's so important for young workers and socialists to mobilise ahead of COP26, to demand significant and meaningful action from the Scottish government to tackle the climate emergency and create secure, well-paid green jobs for a just transition away from the fossil fuel economy."
"The ruling class have demonstrated for years that they not only don't care about how climate change, created by their capitalist machinations, threatens the working class, they actively benefit from the opportunity to exploit and squeeze us as a result of climate hardship.
"We need a systemic overhaul to fight the ecological crisis, ensure decent jobs and fair wages for workers, and start to repair the massive harm caused by austerity. And that overhaul must come from workers in solidarity with each other, unionised and organised."
Leeds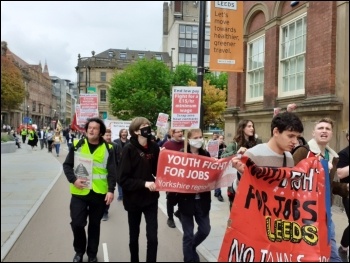 One student said: "We're made to chase league tables, get the top grades, get a degree, and a masters, then end up in Pret on £8 an hour"
Another attendee said: "These jobs require emotional labour, as someone who struggles to even look people in the eye, what can I do?".
After marching through the city centre, general secretary of the bakers' union BFAWU, Sarah Woolley, ended the protest with a rousing call to take the fight to the Tories.
Swansea
Youth Fight for Jobs worked alongside the local trade union council in order to provide a sound system, which allowed young people to speak freely about their experiences. Elliot Vaughan, a recent graduated, spoke about the pressure placed on young people to go to university in order to get a job.
A representative from the CWU said how excited he was by young people standing up for their rights and for a better future, and called for solidarity between young people and workers. A breakout meeting followed the protest, and the discussion continued.