As the world's eyes focus on the Olympics, one of the greatest events in the sporting calendar,
young people
and trade unionists from across the country arrived on Hackney Marshes, east London, to compete in the alternative Austerity Games.
Despite
Hackney
council's over-zealous banning of the games, closing the toilets and café and locking the car-park gates, the games were a huge success.
The council's attitude is just another example of what has been widely recognised as an officious clampdown on protest and extreme levels of security and protection of corporate sponsorship for the
London
2012 Games.
The example of the bagel shop, swooped on for getting into the Olympic spirit and arranging bagels in the shape of the Olympic rings, shows the lengths these drones will go to to protect the likes of Coca-Cola, Samsung and Visa.
Free from the corporate restraints of the nearby high security-fenced Olympic park, wearing and drinking anything of their choice, the Austerity athletes lined up to highlight the plight of young people in Britain today.
Hardship hurdles and more
Through the eight events the young athletes illustrated the key issues raised in the new
Youth Fight for Jobs
manifesto, 'A Future for the 99%' - like the soaring housing rental market with our 'Property High Jump'.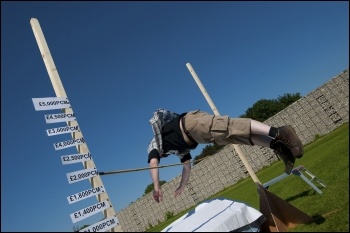 The 'Student Debt Weightlifting' showed the crippling situation young people are left with after university.
The 'Job Jump' long jump showed the increasingly common cycle of young unemployed people being forced into unpaid work experience just to be thrown back on the dole queue.
Alongside these were a number of events - 'Hardship Hurdles' and 'Deficit Discus' for example - that challenged this system that has allowed a global elite to hide £13 trillion from the taxman whilst ordinary working people suffer. During the events we also offered a variety of solutions to the crisis.
But not all our events took up the serious issues and questions facing young people like the ones already mentioned.
The 'Toss the Tory' shot-put as well as the cheating and corrupt bankers' team in their 'trust me I'm a banker' t-shirts added a light-hearted and satirical side to proceedings.
When the curtains come down on the closing ceremony of the
Olympics
and Paralympics in six weeks time they will leave behind a legacy of increased repression of democratic rights, private housing, expensive and out of reach facilities and a transport system taken to the brink.
Meanwhile, the close of the Austerity Games is just the start of a fightback of young people against this government's brutal writing-off of a whole generation.
Up and down the country young people will be organising regional launches of the
Youth
Fight for Jobs manifesto and campaigning to bring out the simmering anger and helplessness felt by young people in a coordinated, organised movement for a decent future.
Suzanne Beishon, London Youth Fight for Jobs